River Valley Metro Mass Transit District Board of Trustees review audit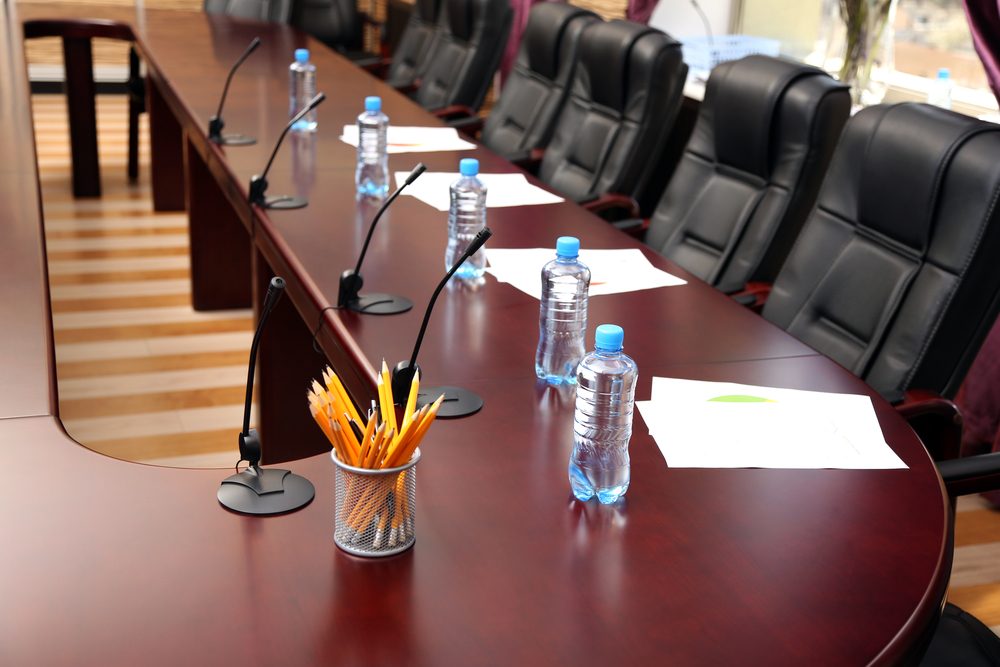 River Valley Metro Mass Transit District Board of Trustees met May 24 to review the 2015 fiscal audit.
Here is the meeting's agenda, as provided by the board:
River Valley Metro Mass Transit District
May 24, 2016
Metro Centre 1137 E 5000 North Road Bourbonnais IL 60914
Board of Director Minutes
Chairman Allen called the regularly scheduled River Valley Metro Board of Directors
meeting to order at 3:00 pm.
Attending Board Members: Chairman Nick Allen, Vice Chairman Norman Grimsley,
Treasurer Susan Legris, Board Members: Mark Argyelan, Carole Franke and Jerry
Pearce and via phone conference Secretary Kelly St. Aubin
Staff Members Present: Managing Director; Robert Hoffmann, Director of
Operations and Recording Secretary; Michelle Brutlag, Director of Administration;
Lois Bentley
Others Present: Siron Sims (First Transit), Geoff Olson (Kankakee County Planning),
TL Caldwell (IDOT), Derek Ryan (Kankakee County Sheriff's Department)
Pledge of Allegiance: Jerry Pearce led the Metro Board and others in attendance in
the Pledge of Allegiance.
Public with Business to Come Before the Board: NONE
Consent Agenda: Carole Franke made a motion to approve the consent agenda.
Mark Argyelan seconded the motion. Susan Legris and sent Lois an email about two
of the charges on the credit card. One had been reimbursed, the other was the two
year fee for our website hosting on Host Monster. A roll call vote was taken of those
in attendance, with all in favor. Consent agenda approved.
Communications:
Chairman's Report: (Nick Allen)
NONE
Managing Director's Report: (Robert Hoffmann)
? HSTP – talking with Geoff Olson and looking at combining the two HSTP
committees (Rural and Urban). The Region 6 staff also thinks this makes
sense. The next meeting is August.
Operations Report: (Siron Sims)
April ridership = 74604; Year to date ridership = 768158
We have 46 operators with 1 taking their test this week. We have a new class
starting on June 13th.
Compliments and Complaints: (Michelle Brutlag)
Had a total of 15 complaints for the month with 13 of these complaints being valid.
We have had a lot of outreach this month: Active Shooter Drill with the Bourbonnais
Police Department, Training at Camelot School, Field trips with Camelot School and
Kennedy Middle School, request for assistance from two separate departments
looking for footage on our cameras.
Had 7 compliments and Customer Care Supervisors transported 126 passengers.
Hoffmann asked the board to notify us of any outreach opportunities.
Board Report:
Mark Argyelan stated that the Senate passed a Transportation bill for 2017 – maybe
we will get some of the funding. Hoffmann stated that some Federal money comes
through IDOT, this is holding up that funding. Some of those grants require state
match, this also holds it up. The Federal 5339 CVP Capital funding should be ok.
New Business:
Fiscal Year 2015 Audit
A copy of the audit was sent to everyone for their review. Mark Argyelan made a
motion to approve the Fiscal Year 2015 Audit as presented. Motion seconded by
Jerry Pearce. No further discussion and motion was passed with all in favor.
Defined Benefit Plan
Moved to Executive Session
5339 Grant Resolution
A motion was made to approve Resolution 2016-1 for 5339 Grant proposal for the
purchase of vehicles through IDOT by Carole Franke. Motion was seconded by Susan
Legris. No further discussion was made and a role call vote was taken will all in favor.
Motion passes.
Call for Board Nominations
Rob Hoffmann reminded the board that the nominations for Board offices need to
be sent in to him so they can be voted on next month.
Old Business:
NONE
Questions from the news media:
NONE
Other Business to come Before the Board:
A motion was made by Jerry Pearce to move into executive session in accordance
with the Illinois Open Meeting Act 5 ILCS 120/2 (c)(1), the appointment,
employment, compensation, discipline, performance or dismissal of specific
employees of the public body or legal counsel or the public body. Motion was
seconded by Mark Argyelan. Roll call vote was taken with all in favor. Motion
carried. Rolled into executive session at 3:18 pm.
Returned from Executive Session at ________p.m.
Motion was made by_____________ to approve Resolution 2016-2 adopting the
amendment to River Valley Metro defined benefit plan. Motion was seconded by
_____________. Role call vote was taken and
________________________________________. Motion passes.
Motion was made by ______________ to approve compensation increase of
__________ for Managing Director. Motion was seconded by ____________. A role
call vote was taken _______________________. Motion passes.
Adjournment
Motion to adjourn by _______________, seconded by ____________, and a
unanimous yes vote of all members, meeting was adjourned at _________ p.m.
Want to get notified whenever we write about
River Valley Metro Mass Transit District Board of Trustees
?
Next time we write about River Valley Metro Mass Transit District Board of Trustees, we'll email you a link to the story. You may edit your settings or unsubscribe at any time.
Sign-up for Alerts
Organizations in this Story
1137 E 5000N Rd
Bourbonnais, IL - 60914-4229
More News