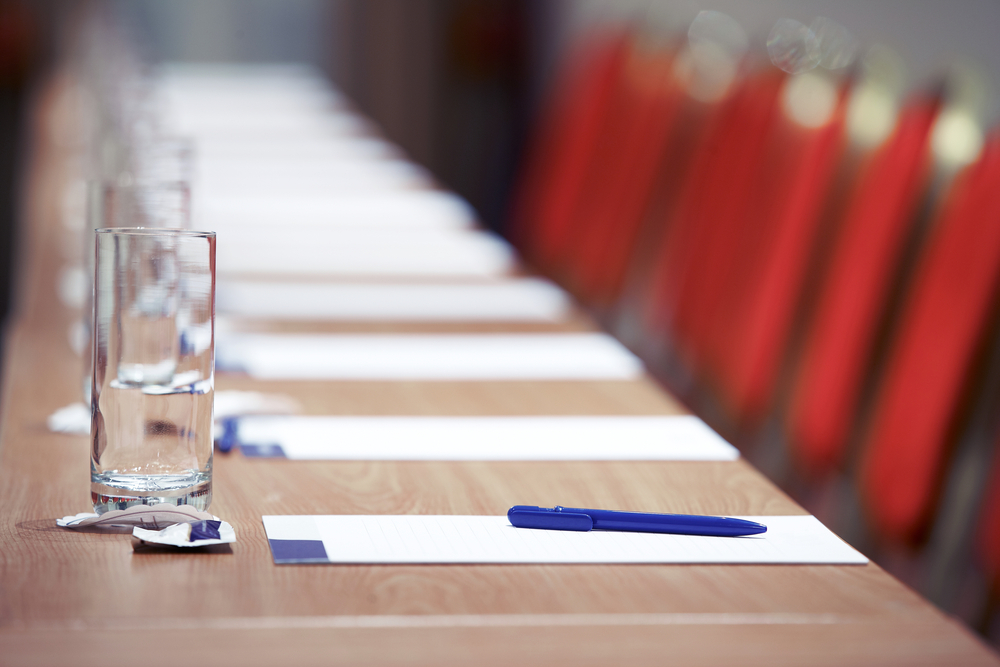 River Valley Metro Mass Transit District Board of Trustees met Jan. 24.
Here is the minutes as provided by the Board:
Chairman Allen called the River Valley Metro Board of Directors meeting to order at
3:00 pm.
Attending Board Members: Chairman Nick Allen, Vice Chairman Norman Grimsley,
Treasurer Susan Legris, Board Members: Mark Argyelan, Carole Franke, Jerry Pearce,
via phone conference: Secretary Kelly St. Aubin
Staff Members Present: Managing Director; Robert Hoffmann, Director of
Operations and Recording Secretary; Michelle Brutlag, General Manager; Ken
Munjoy, Director of Administration; Lois Bentley
Others Present: Duane E Stubblefield – Exxon Mobil, Geoff Olson – Kankakee
County, Dan Huebner and Andrew Ittigson – AECOM, Siron Sims – First Transit,
Richard Berns and David Douglas – Kankakee County Sheriff's Department
Pledge of Allegiance: Geoff Olson led the Metro Board and others in attendance in
the Pledge of Allegiance.
Public with Business to Come Before the Board: NONE
Consent Agenda: Norman Grimsley made a motion to approve the consent agenda
as presented. Carole Franke seconded the motion. A roll call vote was taken of all in
attendance, with all voting in favor. Consent agenda approved.
Communications:
Chairman's Report: (Nick Allen)
NONE
Managing Director's Report: (Robert Hoffmann)
Officer Derek Ryan has retired. Six officers applied for the opening. We have chosen
Richard Berns as his replacement. He has been on his own for just over a week. He
has been a great fit.
Operations Report: (Siron Sims)
November ridership was 64,459 and December's was 62, 557. Year to date ridership
is 446,001. Currently have 40 operators with 1 in training. We will be having training
classes every Monday. First Transit currently has outside resources on sight to help
with the recruiting process.
Complaint Customer Service Report: (Michelle Brutlag)
Total of 36 complaints for 2 month, 75% were valid and 58% were preventable. No
major trends in the complaints, but all do get passed on so they can be addressed.
Some outreach we had was the Fill the Bus at Legends Sportsplex and midDecember
we took a bus to Manteno for an apartment building fire. We also
assisted a mother of two small children to get to and from the bus on a very icy day.
Board Report:
Norman Grimsley – Most questions from all as to when we will end service.
Susan Legris – Thanked Tim Milner for his support.
New Business:
 Expense Reimbursement Ordinance 2017-1
By law we need to pass this ordinance. It doesn't really apply to us. We have just
used the boilerplate ordinance.
Norman Grimsley made a motion to approve Expense Reimbursement Ordinance
2017-1. Mark Argyelan seconded the motion. Susan Legris stated that village needs
to be changed to district. Norman Grimsley made the motion to approve the
Expense Reimbursement Ordinance 2017-1 changing village to district. Motion
seconded by Mark Argyelan. A roll call vote was taken, with all in favor. Motion
passes.
 Fragrance ADA Policy
ADA regulations require that we have a fragrance policy. This is their sample policy
from ADA. Carole Franke made a motion to approve the Fragrance Free ADA Policy.
Motion was seconded by Jerry Pearce. All in favor, no one opposed. Motion passes.
 2017 Meeting Schedule
Hoffmann stated that we have meetings the 4
th Tuesday of the month at 3:00 pm
except July and December. We have to approve this with a motion and post the
meeting dates and times for the year. We are required to announce this in the Board
meeting and post on our website and in our lobby.
 Comprehensive Operational Analysis (COA) Review – Andrew and Dan from
AECOM
Andrew Ittigson reviewed the general findings from the COA and shared some of the
processes on how the data was collected. Andrew also reviewed some the proposed
changes to the routes. There are no changes to Midway and University Park
recommended, but the fixed route changes will decrease travel time for passengers,
especially north to south and is eliminating the large loops in the system, providing
more 2 way travel. Hoffmann will notify Mayors and County Board Chairman that I
would like to set up a 1 on 1 meeting with them to review this plan. He will let the
Board Members know when these meetings are scheduled. We also have to
schedule public comment and public meetings. Notification of IDOT and FTA will also
have to be done. Jerry Pearce made a motion to move forward with this plan for a
July 1st Implementation. Mark Argyelan seconded the motion. A roll call vote of all
was taken with everyone in favor. Motion passes.
Old Business:
 5339 Grant
Metro had applied for 13 buses through the 5339 Grant. We were just approved for
9 buses. We should be receiving these buses this time next year.
Questions from the news media:
NONE
Other Business to come Before the Board:
A motion was made by Carole Franke to move into executive session in accordance
with the Illinois Open Meeting Act 5 ILCS 120/2 (c)(1), the appointment,
employment, compensation, discipline, performance or dismissal of specific
employees of the public body or legal counsel for the public body and 5
ILCS120/2(c)(11) pending or probable litigation against, affecting or on behalf of the
public body. Motion was seconded by Norman Grimsley. Roll call vote was taken
with all in favor. Motion carried. Rolled into executive session at 3:59 pm.
Returned to regular session at 4:18 pm.
Carole Franke made a motion to bring the function of dispatching in house effective
with the new operating contract. Kelly St. Aubin seconded the motion. A roll call
vote was taken with all in favor. Motion carried.
Adjournment
Motion to adjourn by Jerry Pearce, seconded by Norman Grimsley, and a unanimous yes vote of all members, meeting was adjourned at 4:20 pm.